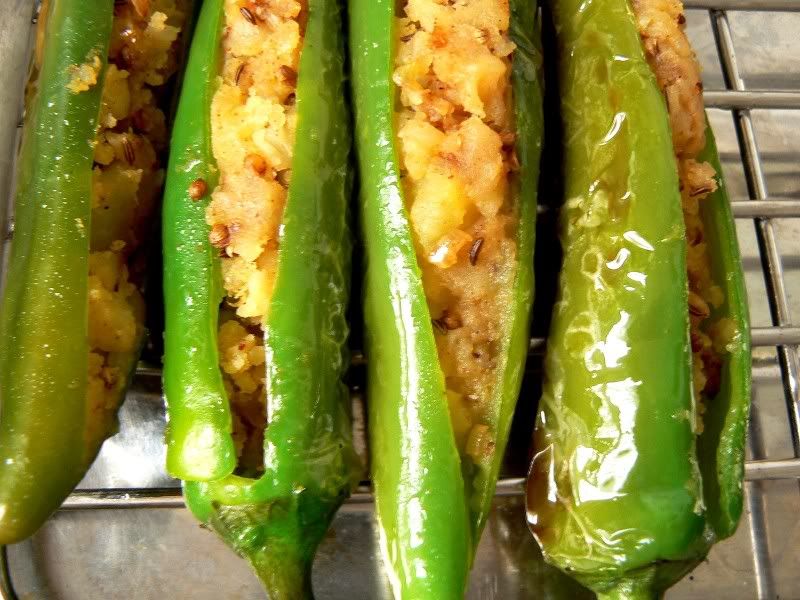 That's the recipe I tried for yesterday's lunch. The usual stuffings that I'm familiar with are mince pork+rice or fish paste. I think meat or fish stuffing + pepper helps to balance the spiciness of the pepper. While this vegetarian version that I tested was packed with spices, take a bite and it'll woken up all your senses! This dish is great with a plate of steamed rice... Ooh la la. This is certainly a keeper!
Stuffed chilli peppers
Recipe from
Spice Hut
Ingredients:
8 chilli peppers
2 large potatoes
1 small onion
1 tbsp coriander seeds
2 tsp MDH Pav Bhaaji Masala (omitted, since not available)
1 tsp red chilli powder
1 tsp cumin seeds
salt to taste, oil for saute
Method:
Peel the potatoes, wrap them in paper towels and cook in the microwave for 8-9 min. Remove, crumble them. Keep aside. Place coriander seeds in a ziploc bag& pound roughly with a rolling pin. Finely chop the onion.
Hold the chilli pepper in the palm of your hand and make a long slit along one side, using a small knife. Remove the seeds & white part inside the pepper with your fingers or spoon. Repeat with all the peppers. When done make sure to clean your hands with soap. Preferrably wear gloves.
Heat oil in a non-stick pan. Add the onion, saute till translucent. Add the Pav Bhaaji Masala, red chilli powder, cumin seeds, crushed coriander seeds, salt to taste. Saute for 2 min. Add the crumbled potatoes & adjust salt. Mix well till potatoes are coated well with the masalas. Turn off stove. Cool this stuffing for a bit.
Pack the stuffing in the prepared chilli peppers. In the same non-stick pan, heat more oil. Once oil is hot, reduce heat to medium low &carefully (use tongs) place the stuffed peppers into the oil, slit side up. Let it cook like this for 5 min.
Turn off stove, remove stuffed chillies and place them in a baking dish. Bake for 15-20 min in a preheated 325 degrees oven. Serve hot.