Hungarians are extremely fond of their bread. The Hungarian bread is delicious and essential for the kitchen. Most importantly they must be served fresh especially when eating with stew and goulash. That said, we do have quite high wastages in terms of stale bread. Well, to reduce the amount of bread being just discarded, its better to make them in to pudding once in blue moon, don't you think?
Verdict : Considering that I haven't actually tasted this before in my life, it was overall a good experience trying for this recipe. Aside that its too sweet to my taste, the positive is the roasted texture on top combined with moist bread inside..simply Lovely!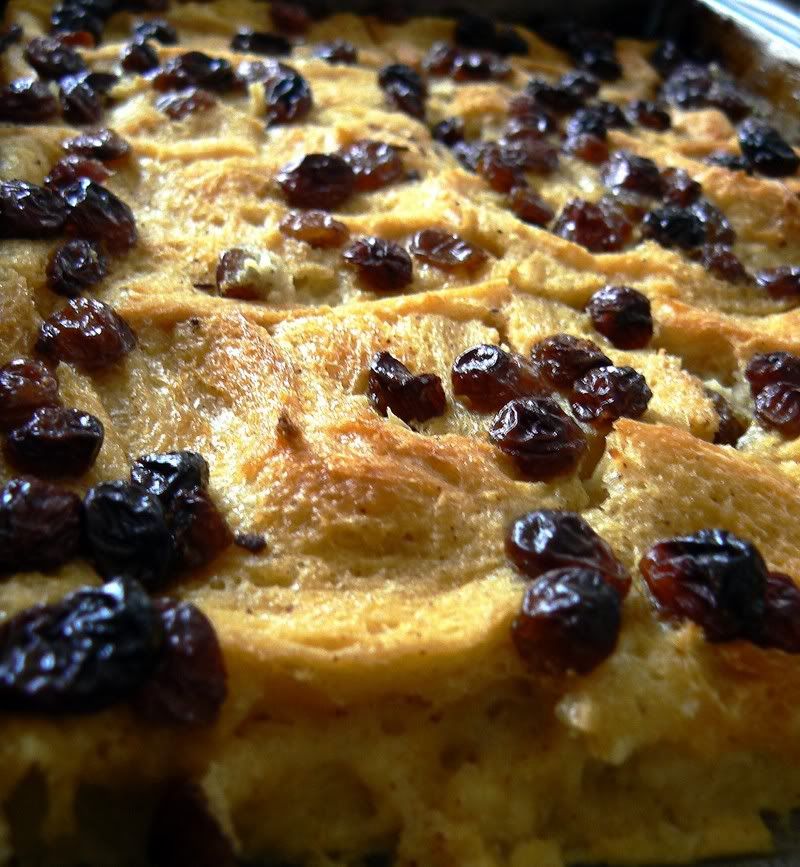 Bread Pudding
Ingredients
Serves 8.
12 slices day-old baguette; cut into 3/4-inch
4 eggs; room temprature
1/2 cup light brown sugar; firmly packed
3/4 tsp vanilla extract
1/2 tsp ground cinnamon
pinch freshly grated nutmeg
pinch Salt
4 cups milk
1/4 cup dried cranberries or raisins
confectioners' sugar; for dusting
Method
Lightly butter an 8-inch square baking dish. Spread the bread cubes in it.
In a bowl, whisk together the eggs, brown sugar, vanilla, cinnamon, nutmeg and salt until well blended. Pour in the milk and whisk until combined. Pour the mixture over the bread cubes. Let stand, pressing down on the bread occasionally, until it is evenly soaked, about 20 minutes.
Meanwhile, preheat an oven to 350°F (Gas mark 4).
Scatter the cranberries evenly over the surface of the soaked bread and press to submerge the fruit. Set the baking dish in a large, shallow roasting pan. Add very hot tap water to the roasting pan to come halfway up the sides of the baking dish.
Bake the pudding until a knife inserted near the center comes out almost clean, 45 to 55 minutes. Serve warm or at room temperature. Generously dust the top of each slice with confectioners' sugar.