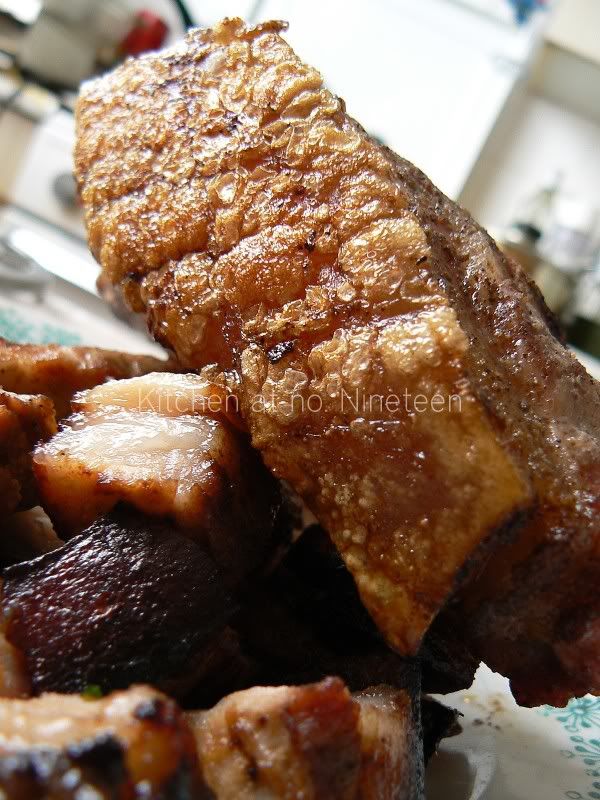 The recipe is adapted from
Lily's Wai Sek Hong
. where the pork should be prepared and marinated overnight, which I didn't have time for. To add to my anxiety was the absence of
five spice powder
, not available at the stores near me. But am not giving up! So, I home-made the 5-spice powder ( DIY
recipe)
;) or rather my version of 2-spice powder as I have omitted szechuan peppercorn, fennel seeds, star anise ..hehe
Verdict : Wow! am sure proud of the result despite the skin being a bit rubbery. I think if I have adhered to Lily's recipe 100% the the rubbery skin would not have occured.
Roasted Pork Belly (Chinese style)
adapted from
Lily's Wai Sek Hong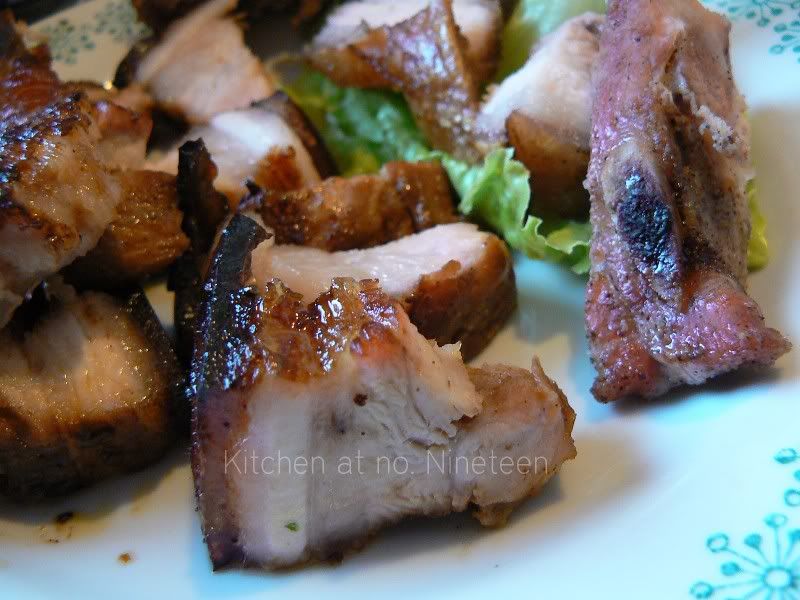 Ingredients
600gm Pork belly
1 tsp salt
1 tsp sugar
1 tsp garlic powder
1 tsp five spice powder
(just used pinch of clove and cinnamon powder)

1 tsp black pepper
Preparation
1) Preheat oven at gas mark 4 (about 180 degrees celcius)
2) Score the skin of pork belly to get a nice crackling effect
3) Dry fry salt, garlic powder, five spice powder and black pepper for few minutes. Add in sugar into mixture.
4) Rub dry ingredients onto meat and marinade overnight or at least 2 hours (i did it in 30 mins :p
5) Place meat on rack of roasting tray with skin side facing up.
6) Roast for about 40 mins.
Note:-
the crackling effect wasn't to my satisfaction, rectify by dry-frying only the skin in a non-stick pan until achieved the desired effect.
Serving :-
Steaming hot rice with chili dipping sauce