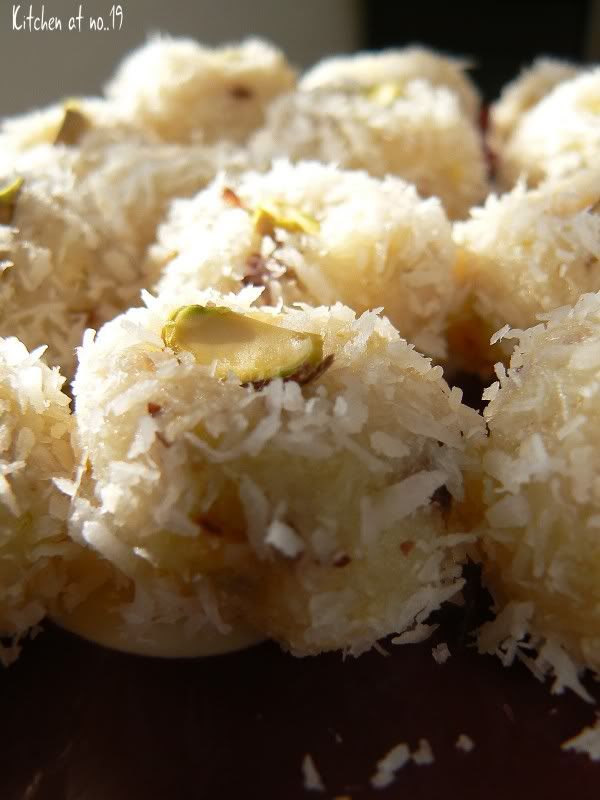 Currently I'm hooked on the
Food Safari.
Have you watch any?
That was where I learned about this yummy Indian (or is it Sikh?) sweets. Only 4 ingredients are needed. Since I do not have cardamon in storage, I've substitute with equal parts of ground cinnamon and grated nutmeg. As Maeve commented they're very addictive!!
You can watch step by step video
here.
I'd better jot down the ingredients here, in case they remove the video later on.
Burfi
Ingredients :-
250gm Desiccated coconut (50gm for rolling in the end)
375gm Sweetened condensed milk
Dash of ground cardamon (sub. with equal parts of cinnamon & grated nutmeg)
Handful of pistachios (roughly grounded)
Method
1) In a bowl, mix 200gm of desiccated coconut, sweetened condensed milk, dash of cardomon and handful of roughly grounded pistachio well.
2) In a non-stick pan, heat the mixture gentally for about 10 mins.
3) Roll the heated mixture into balls and roll on remaining desiccated coconuts.
4) Chill in fridge for about 30 mins. before serving.