can't believe a packet of green mung beans managed to make my day! Moments ago, we went to the organic shop for tofu. This has been the second time I enter this shop. The first was at least eight months ago, for the same intention - to buy tofu. Boy, was I glad that we took time to browse around (B's idea, i was too lazy). My first word when I saw the beans on the shelf was "OMG!!! OMG!!!" I never thought I would react this way over a common staple item from my tropical home and that it can lift my spirit so much. Next of course, I was shocked at the price that they charged! For a 500g packet, the price was about 2Euro, which I think its about 800% higher than what we pay in Msia :o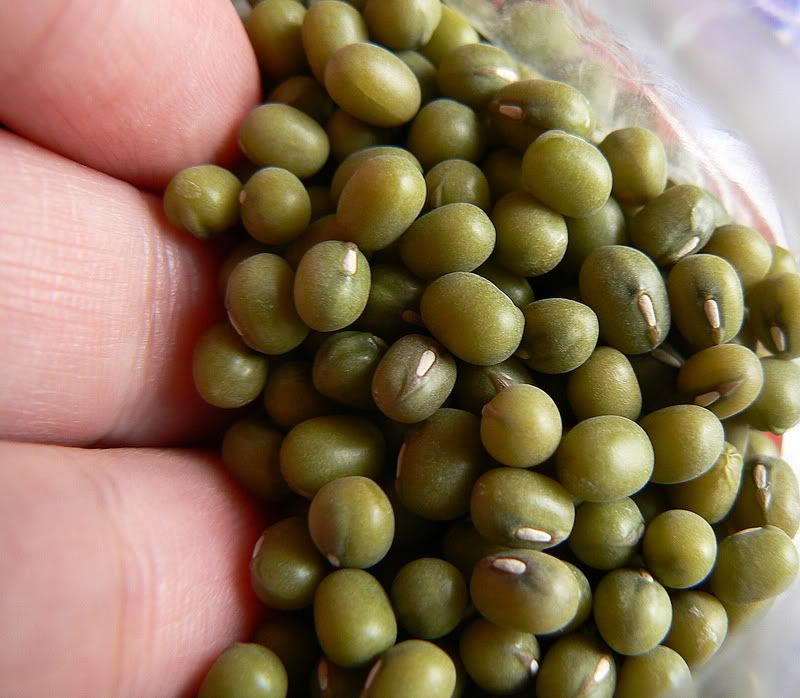 The green mung beans, as my mom told us, is believe to have a cooling effect for the body. It is especially benefial to boil some as dessert to help reduce the body heat during summer. I must admit the look of the cooked beans is not exactly appetising and may not be everyone's "cup of tea". That said, I do hope you'll try the recipe included below to decide for yourself.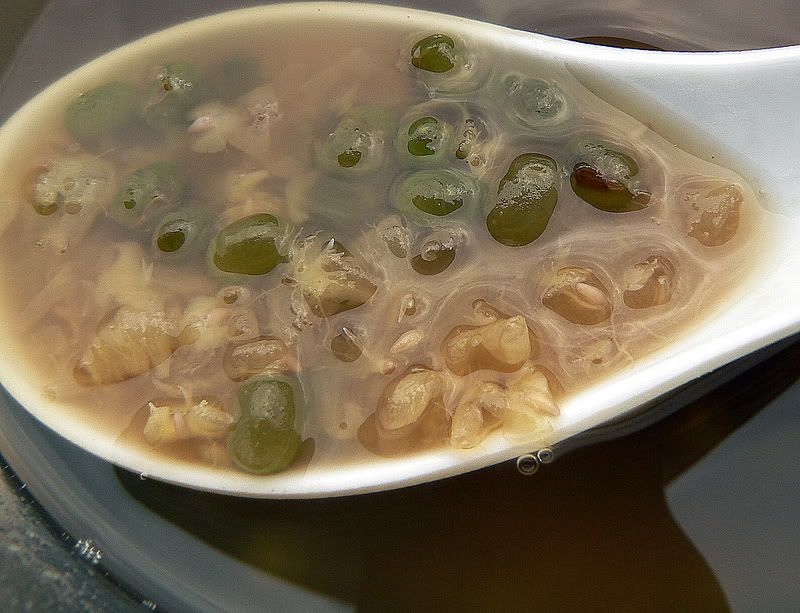 I boil a simple version without milk

Green Mung Beans with Gula Melaka and Coconut Milk
Recipe by Amy Beh (
link
)

Ingredients
200g Gula Melaka (palm sugar), chopped
1 cup water
300g green mung beans, soaked for 1 to 2 hours and drained
100g castor sugar
1.5 litres water
2 pandan leaves, knotted
Combine and squeeze to get santan (coconut milk):
1 grated coconut
1 cup water
1/4tsp salt
Method :-
Boil gula melaka (palm sugar) and water in a saucepan until sugar has dissolved completely. Strain the syrup and set aside.
Combine mung beans, sugar and water in a deep pot. Bring to a boil for 20-25 minutes. Add syrup to the mung beans and simmer over low heat for 20-25 minutes or until the beans are soft and the liquid in the pan is reduced to half.
Stir in coconut milk, add the salt and bring to a low boil. Serve this sweet dessert either hot or if preferred, cold.