what else? eggplants a.k.a aubergines. First, please allow the photos to speaks for itself..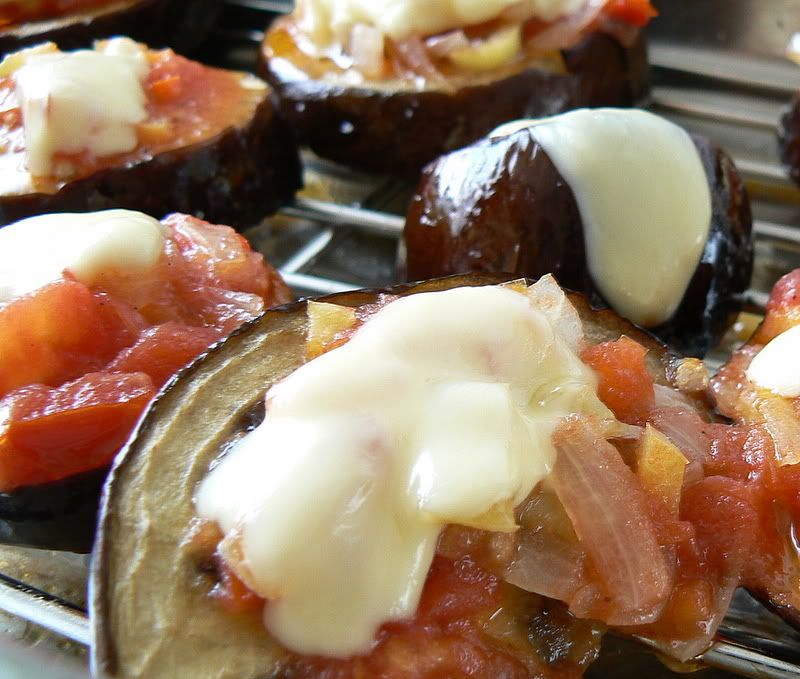 Eggplant is not particularly a favourite of mine. It's just that for the lack of varieties of vegetables here, I welcome some colours and different taste. As far as I can remember, aubergines is usually fried over high heat then topped with the spicy chillies. Oh, I love them in curries as well! However, this time round, I'm choosing a healthier method of preparation without compromising on the taste.
Method :-
1) Pre-heat oven at 220°c (gas mark 7)
2) Cut aubergines in to any shapes you prefer, leave the skin on.
3) Place aubergines on baking tray and brush with olive oil, bake each side for 10 mins.
4) Prepare topping - dice onions, tomatoes, paprika (red & green for colours), sauté with some oil, season with salt, pepper & sugar
5) spoon topping onto aubergines, finished off with cheese. Leave in oven for another 5 mins. or until cheese melts.
Voila!