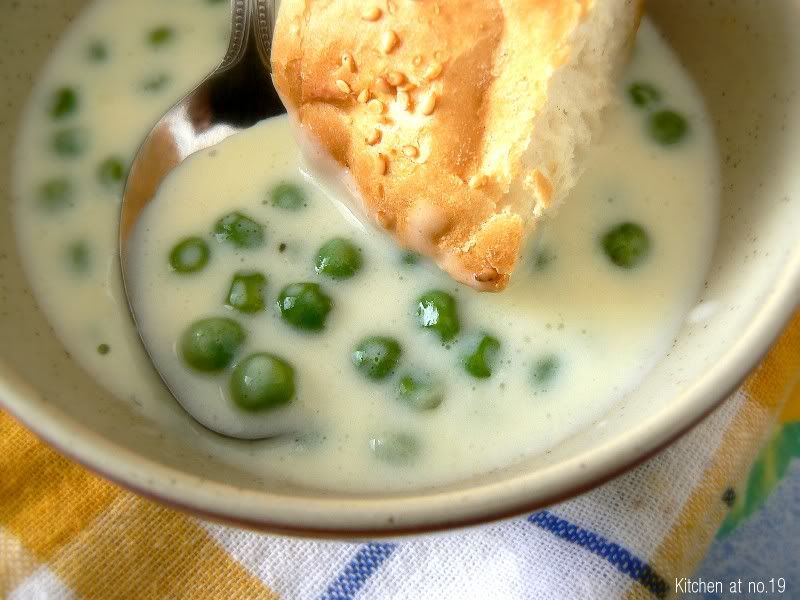 A dish of peas, that's the result I got from the translator. This dish can be served as a starter or eaten as main meal together with meat fillets. I've always love anything-peas, so it's no surprise that this dish is one of my fave. Hungarian dishes. It's great especially on cold autumn and winter days...I simply eat them with bread, delicious :)
The translated recipe is as follows :-
Ingredients
300gm green peas (fresh or frozen)
Oil , for sauté
Salt, to taste
Marjoram , a pinch
2 - 3 Tbsp of Sugar or sweetener (you may adjust to taste)
Milk , enough to cover peas
3 Tbsp flour, as thickener (you may adjust to taste, although I find the result thicker than the ones I usually have)
Parseley, finely chopped
Method
1) Heat a little oil on a sauce pan, add green peas and cook for 5-6 mins.
2) Next add salt, marjoram and sugar to the green peas, and stir a little. Pour in the milk enough to cover peas.
3) Mix flour with a little milk and put aside. When peas are soft, stir in the flour mixture. Stir it for a few minutes and remove from heat.
4) Finally add finely chopped parsley before serving.