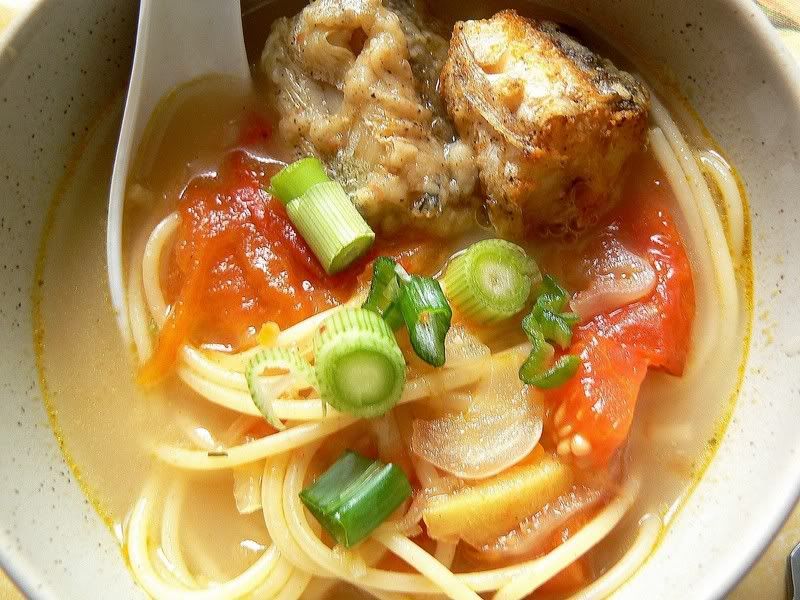 I hardly ordered this at hawker stall back home. - not more than 10 occasions in my entire life! Though I like the taste, I rarely crave for it. The strangest tins was that I requested my sis to source for the recipe the first thing I arrived here. In fact this was the second malaysian recipe that I tried out in my kitchen. Right now it's one of our fave. soup recipes, wholesome and comforting.. just reminding me of home.
Verdict : Even with some ingredients substituted, I dare say the taste is quite near to the original.
Fish head Noodles
(Serves 3-4person)
Ingredients:
1kg fish head (cut into pieces and seasoned with salt & pepper)
*used frozen fish meat instead
100g young ginger slice thinly
150g rice vermicelli (soak in water till soft before blanching)
*used angel hair pasta or spaghetti
(A)
3-4 tomatoes(sliced)
150g salted cabbage (Ham choi) shredded and soak in water for 20 minutes
*sub. with Hungarian pickled cabbaged added (soaked) with salt
(B)
1/2tsp pepper
1 sachet ikan bilis granules
*sub. with Hungarian fish stock granules or plain chicken stock
1 litre hot water
salt to taste
100ml evaporated milk
*sub. with UHT milk / full cream
A few stalk chinese parsely & spring onion for garnishing
Method
Blanch rice vermicelli in hot water until soft.
Deep fried fish head pieces until golden brown and crispy.
In a clean wok, add 2 tbsp oil fry young ginger until it's fragrant ;add (A)&(B) allow to simmer. Add fish head and cook rice vermicelli for 5 minutes when boiling, pour in evaporated milk. Garnish and serve immediately.