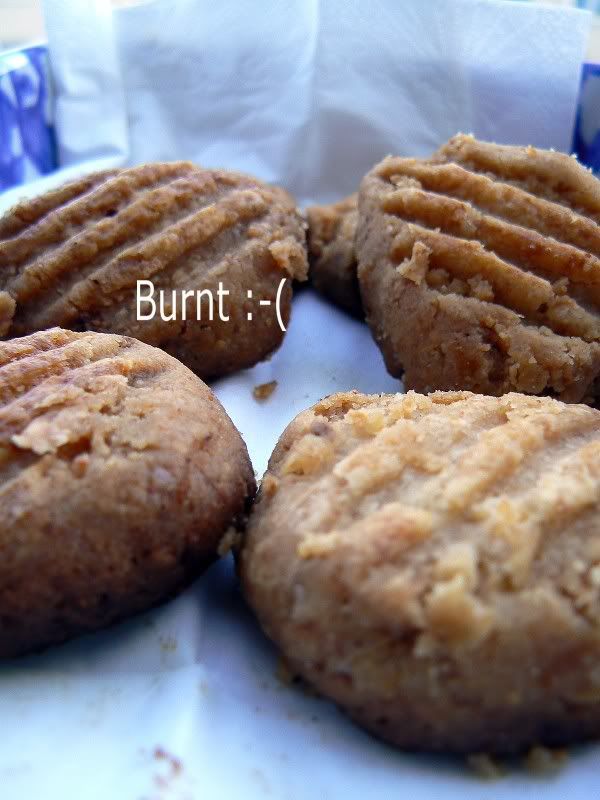 Lately, all I could think about is food!! It doesnt help that there're so many food blogs offering easy recipes. Like this peanut cookies, preparation took me about 30 mins. only.
The first batch was burnt but guess what? I ate the not-too-burnt ones and I'm hooked! So, I baked it again the next day since it's doesnt require too many ingredients and its ready in a jiffy.
Verdict : One by one they melt in the mouth..oh, very addictive! You should really try it :)
Note : First trial the cookies weren't sweet enough. So, i've increased to 1/3 cup of sugar following the recipe of the link below
Peanuts cookies click
here
for recipe
source
:
Little corner of mine
(A)
1 1/3 cup unbleached all-purpose flour/ plain flour
1/2 tsp. baking powder
1/2 tsp. baking soda
(B)
1/4 cup sugar (or icing sugar for more melt in the mouth texture)
80g ground coarsed roasted/toasted peanuts
(C)
1/3 cup + 2 Tbp. canola oil
1 egg, beaten for egg wash
Method:
1. Sift (A) into a bowl.
2. Add (B), mix well.
3. Add (C), stir with a fork, the mixture will be crumbly.
4. Use your hands, scoop up the mixture and press it into balls. Place on parchment paper lined cookie sheet.
5. Glaze the peanut cookies with egg wash.
6. Bake at preheated 350'F oven for 20 minutes.