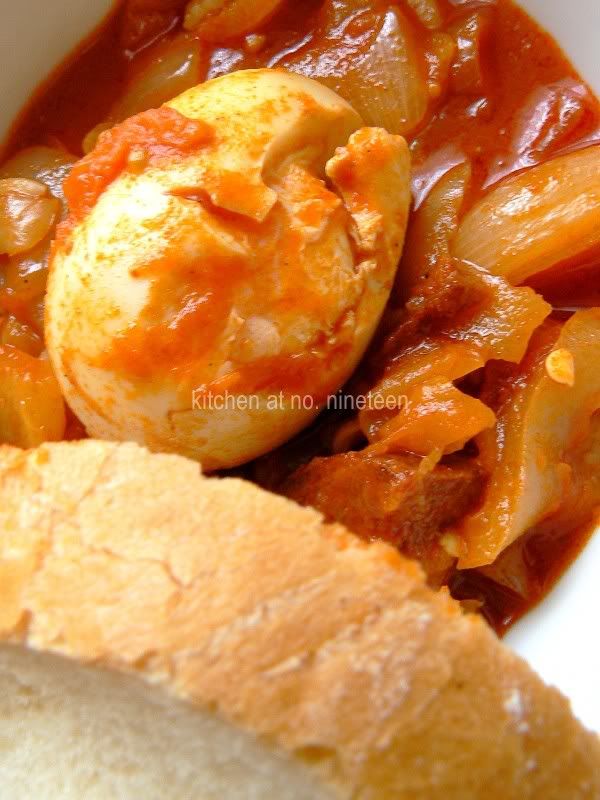 Lunch today - the Lecsó. After nearly 3 years residing in Hungary, this is only my 3rd time round cooking this refreshing dish *blush* Truth is I get nervous when preparing Hungarian dishes 'cos of the expectation and comparison. So, this is the only Hungarian dish that I "mastered" (without the need to refer to the recipe). In my opinion, this stew definitely outshines the internationally famous
gulyás
(
goulash
)
The base or basic ingredients for Lecsó are tomatoes, onions and sweet paprika. Today I've included hard boiled eggs in the stew which tasted well together and finally, they're great with crusty bread :)
The following recipe was extracted from the internet loooong time ago (sorry, i've lost the link) .
LECSÓ (pronounced - Lecho)
with sausage
serves 6

INGREDIENTS:
5 large onions (cut them into half and slice them)
6 large cubanell or european style of green peppers (sliced into rings)
(Do not use green bell peppers they have a bitter flavor.)
4 large very ripe tomatoes peeled and diced. If the skin is hard to peel put them into hot water for a minutes, then try it again.
150g. of bacon (cut into cubes)
250g. of smoked sausage (cut into rings)
1 Tbs. of tomatoe puree
1.1/2 tsp. salt
1/4 tsp. grated black pepper
1.1/2 Tbs. of sugar
1.1/2 Tbs. of paprika

METHOD
Fry the bacon cubes medium brown in a large frying pan. If you didn't get enough fat add a few Tbs. of oil. Sprinkle with the paprika and add the sliced onions. Cook it for 2 minutes and throw all the ingrediens and spices into the pan. Cook it for 1/2 hour with occasional stiring.Taste to see if more salt or sugar is needed.